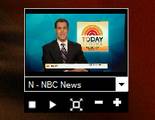 Mini TV is a Windows gadget that will let you enjoy on your Desktop TV channels offering internet streams.
The gadget comes with several channels predefined (some of them may not be available for your country, others may be discontinued in the course of time), but the gadget will also let you add custom channels you decide.
A timer function will stop the connection after a specified time passes.
The gadget uses Windows Media Player to fetch the channels. If you can't connect to any channel at all, most probably WMP is not allowed to connect to the internet. Open WMP Options and configure the relevant settings: at the "Player" tab check "Connect to the Internet". At the "Network" tab  check all protocols and Multicast Streams.