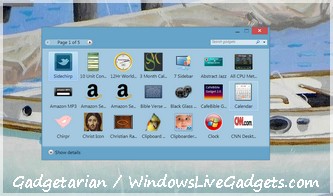 Gadgetarian is an efficient, and also absolutely free and safe utility, that will let you enjoy your Windows Vista / 7 gadgets on the desktop of Windows 8 and 8.1 (I've been told that it works just fine on Windows 10, but I haven't tested it myself. If you use Windows 10, let me know).
I like Windows 8, but disabling gadgets is something I can't agree with at all. I'm not day and night at the Start screen watching the tiles, I use the Desktop environment and I need my gadgets.


Gadgetarian adds gadget support on Windows 8 and 8.1 in a couple of seconds. You won't even need to restart your PC! After setup finishes, just right click on the desktop and you will find the familiar "Gadgets" option, along with "Personalize" and "Screen Resolution".
The setup includes some popular free gadgets, but you can always come here to download more. All gadgets are tested for safety and are free.
Note that Gadgetarian does not add any new abilities to the Windows system, it just enables the native gadget functions, now unfortunately hidden. This way you can keep using all of your old desktop gadgets or add new ones, without compromising the integrity of the OS.
To install new gadgets, just run the .gadget files you already have or you will download from this site. If you have a gadget as a folder (also named .gadget), paste this gadget-folder in C:\Program Files\Windows Sidebar\Gadgets (you need first to configure Explorer to show protected system files and folders, otherwise the "Windows Sidebar" folder won't be visible).
» When you upgrade to Windows 8.1 you will need also to use again Gadgetarian to re-enable your gadgets.
Sometimes I like to view my wallpapers crystal clear, without any gadget on top of them. For this reason I use this light but powerful freeware called Gadgibility, that lets me easily hide and show (toggle on and off) all gadgets instantly, without losing their settings, which is the most important.