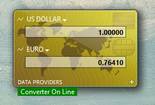 This is the page of the old MS Currency, a gadget I liked a lot, which, unfortunately won't work for me and for several other users; thus I started thinking about alternative ways to have currency conversion available on my PC desktop.
There are some nice, free and working gadgets you may like to try and see if they can help, Currency Watch, a gadget that will let you monitor two or more pairs of currencies, the Exchange Rates desktop gadget, that will let you monitor or convert, and the New Currency Converter.
Of course, you are welcome also to download (right from this page) the old Microsoft gadget, just to make sure if it works or not for you.
If you are not on your computer or if you are not able to install a gadget, or for whatever other reason, you can always bookmark in your browser and/or make a shortcut on your desktop to use the free On-Line Currency Converter.