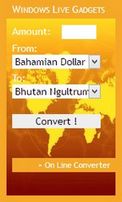 You can download from this page the New Currency Converter, an elegant, free and safe gadget that will let you exchange custom amounts in a pair of several currencies right from your desktop.
The gadget supports 151 currencies, including USD, Euro, Russian Rouble, Chinese Yuan, GBP, Philippine Peso, Brazilian Real, Indian Rupee, Swedish Krona, Japanese Yen, Pakistani Rupee, Korean Won, Indonesian Rupiah…, and you don't need to worry if the exchange rates are current. This gadget won't save rates locally, it always uses fresh rates: if it stops working, even temporarily, because of a server problem, you will have no conversion at all, not a wrong conversion!
Compared with the old Microsoft gadget this one supports more currencies, but it does not remember your settings (each time you start Windows defaults to the USD / Euro pair), and it works always in pairs, you cannot convert an amount to several currencies simultaneously. The Microsoft gadget is still available, if you want to download it, but most probably it won't update exchange rates.
This new Currency Gadget is the closest safe and free alternative to the Microsoft gadget, so far as I know, along with Currency Watch and Exchange Rates.
If you happen to find some other, just drop me a note and I will include it on these pages, but be careful, a lot of desktop gadgets contain malware and viruses (you may like to read this note on Safety and Quality).