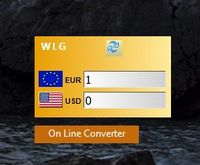 Exchange Rates is a free desktop gadget that will let you convert several currencies or monitor constantly a pair of currencies.
The gadget is elegant and simple, and it remembers your choice of currencies.
If you use Windows 8 or later you may need first to get the (free) Gadgetarian to enable the Windows gadget system.